March 21, 2020
5 Factors Affecting Multifamily Property Valuations as a Result of COVID and Unique Opportunities Created in This Market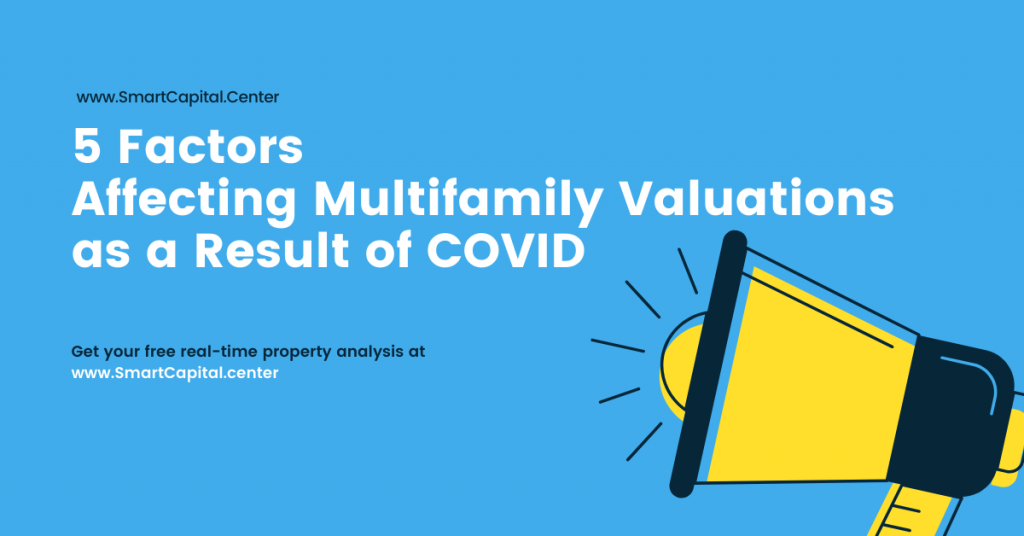 Whether you own multifamily real estate right now or are looking to make an investment into a multi-unit property soon, the coronavirus will have a significant impact on how the multifamily properties are operated and acquired, at least in the short- and mid-term. Multifamily property cash flows and valuations are likely to come down, creating a unique opportunity for multifamily buyers to snatch good deals. Additionally, historically low interest rates create a great window of opportunity to get attractive financing for acquisitions or for refinancing of existing loans and to save money on mortgage payments for years to come.
Commercial property valuation depends on supply and demand in the market. Right now, there is a massive demand shock affecting buyers behaviour everywhere. This demand shock will directly translate to multifamily real estate prices and increased availability of distressed and off-market real estate deals.
With the multifamily market entering a state of flux as many of the short-term fundamentals change, owners and investors should be aware of the 5 big factors affecting multifamily properties as a result of the coronavirus pandemic.
1. Leasing Activity Will Slowdown
Many big cities throughout the country are enacting interventions, such as complete lockdowns or other significant restrictions, and self-quarantine has gone nationwide. As a result, people aren't getting out as much as usual. This means plans for the future are being put off, especially with uncertainty about where the next few paychecks are coming from.
If potential renters aren't leaving their houses, leasing activity will likely to slow down significantly. People won't want to go out as much, and that goes double when it means going into someone else's home or shaking hands. With fewer viewings, it's hard to imagine leasing activity continuing as previously. On the flip side, existing tenants will also be reluctant to move out in this environment, which will counterbalance somewhat the reduced rates of the lease up.
2. Rents are Likely To Stop Growing or Even Decline in Select Markets
Expanding on the above point about leasing activity, rents will likely slow their growth due to lower demand and higher economic uncertainty. This effect will, at least, continue for the next few months, and, maybe, longer, if there are notable layoffs and the ripple effect is felt across the economy.
Rental rates are a direct result of what renters can afford. Already it is becoming clear how many people are overextended and don't have the savings necessary to cover rent, in case income is interrupted. The transport, oil & gas, service, and retail industries are being hit the hardest. Therefore, any areas and buildings directed to people in those industries may find a more drastic slowdown in rent growth than other locations.
You can find to which industries and employers your properties are exposed to by using this free tool www.SmartCapital.Center. You can input your property address, and it will show you all large employers, their size and industry, for the area where your property is located, along with tons of other information.
3. Vacancy Will Increase in Select Markets
With the growth of unemployment, and lack of savings to pay for rent, some tenants will be forced to move out from their existing rentals to a more modest accomodation, including adding roomates or moving in with parents or relatives. The vacancy rates are likely to increase, especially in markets with a significant share of tenants employed by affected industires (transport, oil & gas, service, retail).
4. Retail Space Will Be Severely Impacted
An additional factor to consider with multifamily buildings that have restaurants and other retail space (usually on the ground floor) is that there will be drop-offs in retail revenues at this time. With shopping and eating out off the table for the time being, many tenants will have cash flow difficulties and may have to close their businesses temporarily. This will impact their ability to pay rent and landlords may have rent payment delays or requests to reduce rents, or outright tenant departure and vacancy.
We can expect this effect to carry over to retail vacancy and rental rates. Many retailers are going to take a wait-and-see approach, since rents may come down and they don't want to make decisions during this period of general economic uncertainty.
Since smaller retailers will be underperforming their sales projections, they may decide not to rent a new store space this year. This would result in lower absorption in the market and hurt property valuations for buildings with existing retail vacancy.
5. Operating Costs Will Temporarily Increase for Multifamily Properties
Finally, the costs of operating multifamily buildings may go up due to a higher than normal janitorial requirement. Deep-cleaning costs for retail space and additional cleaners for common spaces in multi-residential buildings will boost expenses for the time-being. However, a closure of select building amenities, such as gyms or pools, can help save some money and counterbalance the increased cleaning costs. Although these expenses should not be expected to become the new normal for mulifamily buildings, it is still a factor in short-term cash flow and NOI projections.
Unique Opportunities
It isn't all doom and gloom though. There are 2 big opportunities investors and owners can take advantage of that will pay significant dividends in the future, or can make an investor very wealthy.
Profits, or return on investment (ROI), for multifamily investors are generally affected by three key variables:
1) the original price that an investor paid for a property
2) future increases in property cash flows, and
3) the ease at which investors can get multifamily loans.
Coronavirus' impact on these variables creates the unique opportunities for enterprising investors and owners.
1. Lowering Multifamily Valuations
With increased market uncertainty and potentially growing vacancies and reduced rents, the valuations for multifamily properties will likely to come down in the short and medium term. We can expect to see more off-market opportunities and distressed sales. This is a great (and long awaited) news for buyers.
Locking down attractive deals while competition is slowed down is going to be a strong way to get ahead in this investment climate. As Dennis Patrick of Smart Capital Center said, "with economic shocks like this, there is always an increase in the number of distressed sales". These opportunities are ripe for the picking to anyone who has the funds on hand necessary to do deals on a short notice.
With Las Vegas and certain parts of Los Angeles being largely tourism and entertainment-focused, we will likely see cap rates increasing, and valuation decreasing, in these and similar markets.
2. Significant Potential for Future Increases in Multifamily Property Cash Flows and NOI
If you buy a distressed property with a high vacancy rate or low rents due to the current adverse market conditions, there is a good chance you'd be able to increase property cash flows significantly once the market stabilises. As markets recover, you will be able to reduce vacancy and increase rents substantially. As a result, you'd be able to sell your multifamily property at a much higher valuation.
3. Historically Low Rates for Multifamily Loans
Financing rates are at their historically low levels now, in the 2.5% – 3.5% range. Such rates have not been available since 2009. The refinancing of existing loans is a chance to save money on monthly mortgage payments and improve cash flow projections for many years ahead.
If you are considering an acquisition, this environment of cheap and easy financing should make every deal even more attractive. Also, rock-bottom interest rates like these may mean that a good round of financing done now will not need to be refinanced in the future – less hassle for the new property owner.
Smart Capital Center, which sifts through over 1,000 of loan programs daily to find best financing options for its customers, has recently reported rates as low as 2.75% for multifamily refinancing, and this has been reflected across the industry. Data shows that refinancing activity has increased by 30-40% over the last few weeks while property owners make moves to save on their monthly mortgage payments.
Conclusion
The 5 factors mentioned above should give you a better idea of how multifamily capitalization rates and valuations are being affected by the coronovirus. As well as how this environment creates unique opportunities to generate wealth for entrepreneurial real estate investors.
Reduced valuations for multifamily properties and historically low interest rates provide a once-in-a-lifetime opportunity to generate high returns on deals done now. However, deals should be carefully analyzed. You can use our software and data platform for free real-time property and market analysis www.SmartCapital.Center
Invest with confidence
find the value of any commercial real estate property